North Hampshire Balloon Flights
Adventure Balloons offers hot air balloon flights in North Hampshire from launch sites in Basingstoke and Hartley Wintney
Balloon Flight Hampshire
Our North Hampshire take sites are at Down Grange and War Memorial Park in Basingstoke. We also have our own site at Hartley Wintney. All these sites are convenient for the M3 motorway which you will almost certainly see on your flight.
During the balloon ride you may see Tylney Hall Hotel, Wellington Country Park, Stratfield Saye (the Duke of Wellington's Home) and Bramshill Police training college, some of which dates from Elizabethan times. You may also see small villages such as Odiham, Hartley Wintney, Crondall, Overton, Dummer and small towns such as Hook. If we fly near RAF Odiham you may see one of their Chinook helicopters, noticeable by their distinctive throbbing noise. Lasham airfield is the largest gliding centre in Europe. We sometimes land there and gliders will sometimes approach the balloon in flight and say hello!
Click here to see videos of our balloon flights over Hampshire.
Book now to go ballooning in North Hampshire.
Click here to see maps of our Hampshire balloon launch sites.
To ensure that we provide you with a safe and enjoyable flight, the site chosen will depend on the wind direction, speed on the day and any operational factors. Our main airspace consideration is to keep out of Heathrow Airspace. And of course we also do our best to avoid Farnborough Airport at its busiest times, particularly during the time of the Farnborough Airshow!
Our North Hampshire Hot Air Balloon Rides Aerial Picture Gallery
Click on the pictures below to see some super aerial views taken on our balloon rides around Basingstoke, Farnborough, Fleet, Odiham and other Hampshire balloon flights locations.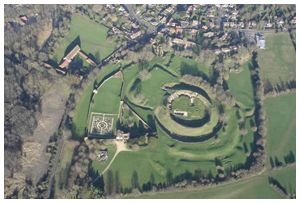 Ruins of Basing House, Old Basing Click image to see loads more pictures of Basing house ruins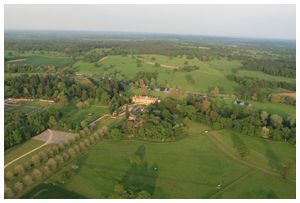 Adventure Balloons over the Duke of Wellington's house at Stratfield Saye.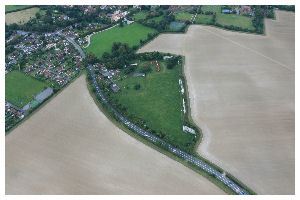 Odiham Chalk Pit, which was used to inter French prisoners of war in the 1700's and used to hangar airships in World War Two.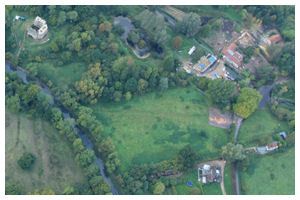 The builders are in at King Johns Castle Odiham on the Basingstoke Canal. Click here for more images.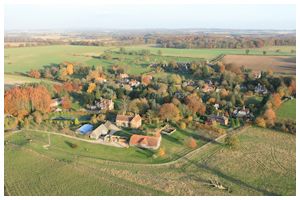 Weston Corbett and Weston Patrick, two Hampshire villages divided only by the road that runs down the middle of them.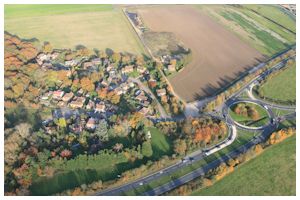 Ballooning over the Bikers pub the Lord Derby in North Warnborough. Hundreds of motorcycles meet there once a month. They also serve good food too during the rest of the month!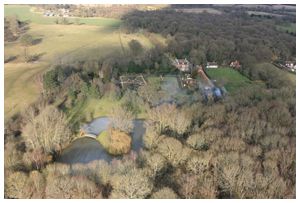 Balloon flight over The National Trust West Green House near Hartley Wintney.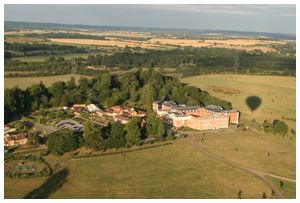 Four Seasons Hotel near Dogmersfield from Hot Air Balloon. Click here for more images.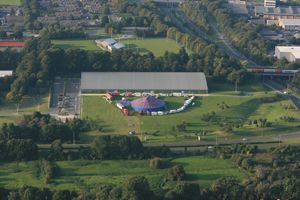 Our balloon flight takes us over the Milestones Museum in Basingstoke giving us an aerial picture of the circus too.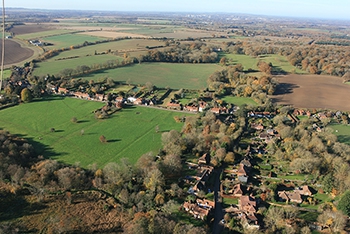 Lovely aerial view of Greywell on a Sunday morning flight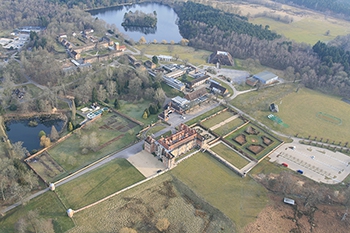 Recent aerial picture of Bramshill Police College before it closed in 2015