North Hampshire Balloon Flight Locations.
Click on the maps below if you would like to see an interactive Google Map with directions and average travel times from your start location.
So why do we need so many launch sites to fly a hot air balloon over North Hampshire?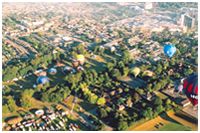 The answer to this question is fairly simple - hot air balloons cannot be steered! We go exactly where the wind takes us, and have no control over our speed or direction of travel. Our biggest obstacle in North Hampshire is Heathrow Airspace. This starts just east of Blackbushe airport, and we also have to think about RAF Odiham where the Chinook Helicopter force is based and Farnborough Airport. Imagine taking off from Hartley Wintney, with the wind blowing towards Bracknell. We would soon be causing some pretty serious problems for the passenger jets trying to take off and land at Heathrow.
With the wind in that direction we'd need to use one of our launch sites further west, so that we could fly in safety. Occasionally if it is a lovely day for ballooning but that still does not give us enough room for safety we may on odd occasions need to use our Micheldever launch site. Whichever site we use, this will generally mean we are flying the area within a 10 mile radius of Basingstoke or Hartley Wintney.

Please remember, we cannot say which launch site we will be using on any particular day until we know which way the wind is likely to be blowing! We expect our passengers to be prepared to fly from whichever venue is being used that day.

With the exception of flights meeting at around rush hour, the sites are all within 30 - 40 minutes driving time of each other, even if we have to use Micheldever.
Book now to go ballooning in Hampshire.