Customer Comments
"Thank you once again for an excellent experience and one that I would certainly recommend to anybody to anyone that wants that unusual birthday present."
--- GR - Basingstoke
"Hi Adventure Balloon Team, I just wanted to thank you for making last Thursday a day that I will never forget, extremely pleased that I was able to ride a hot air balloon over London before me leaving for good to Mexico; it was something that I always wanted to do.

I loved it and Kim the pilot made me feel extremely safe, despite my mild fear of heights! - Have a great day"
--- Laura
Floating over central London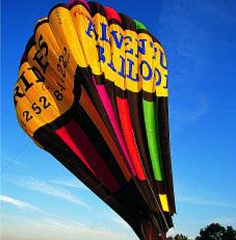 Inflating a hot air balloon in Oxford
"Inflating the balloon takes about 15 minutes and everyone lends a hand unrolling what is in effect a massive bag. A powerful fan blows cold air and transforms what looks like an oversize sleeping bag into the balloon.

It is easy to forget that you are suspended from a large piece of nylon held up with a few canisters of gas. Travelling across the town you can almost imagine you are in a cinema watching a film."
--- Reading Chronicle
"Hot air ballooning has to be one of the most romantic ways to fly. Few can resist the attractions, and whether you choose a morning or evening flight, the experience will be remembered for years to come!"
--- Surrey Advertiser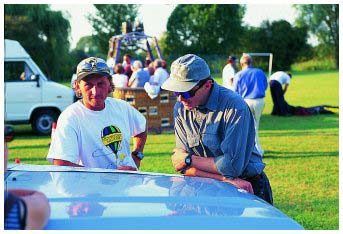 Looking at the maps before flying our balloon from Winchester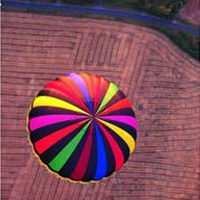 Our stained glass window balloon design is clearly visible as we float over crop stubble near Stevenage
"Joanna and I would like to express our sincere thanks to you for arranging for us to fly with Adventure Balloons.

The weather could hardly have been better for what was a breathtaking experience. Quite honestly, I think we were all a little awestruck, as we drifted effortlessly above the Oxfordshire countryside.

Gary and Paul were fine 'hosts', befitting a memorable evening."
--- SA - Oxford
"I'm pretty sure Gary could have landed that monster on a tray of eggs without breaking one. We enjoyed every moment of the trip and would like our compliments given to the crew.

We strongly recommend Adventure Balloons to our friends and look forward to receiving the unique in-flight photograph."
--- AC - Berks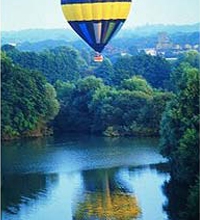 Hot air balloon reflection in a lake near Wokingham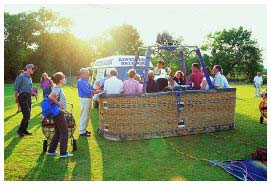 Passenger briefing at Popham Airfield
"Having promised myself a flight in a balloon by the time I reached 40, I was thrilled with the realisation of this dream. It was such a peaceful, surreal experience, made all the more fulfilling by all the people involved, the friends helping to inflate the balloon.

I can't wait to see the slides of the bird's eye view of the broccoli trees; the patchwork in greens; the glorious colours of the balloon."
--- PK - Herts
"Thank you so much for the excellent photograph taken during our balloon flight. It is especially precious as our own photos were spoilt.

This one is framed and hanging in our home to remind us of a truly wonderful experience, one we shall never forget."
--- PC - Herts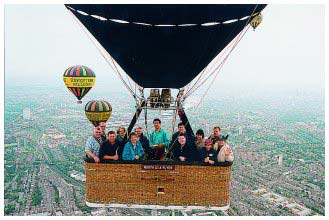 Balloon flight over London with 4 hot air balloons