Hot air balloon rides with the UK's only Happy Birthday Balloon Flights Operator - Giving a balloon flight gift voucher for a birthday present is an awesome surprise for anyone and here at Adventure Balloons we can make the gift even more memorable - by flying you in the UK's only "Happy Birthday" balloon.
When booking a date for your balloon ride just check with our staff for available dates to fly in one of our happy birthday balloons at no extra charge. (Available on most of our balloon flights in Berkshire, Essex, Hampshire, Lincolnshire, London, Oxford, Surrey and York in 2014).
Book Now to buy a flight voucher to fly in the country's only happy birthday balloon
We also have a small exclusive happy birthday charter balloon that can be used for couples click here for more details.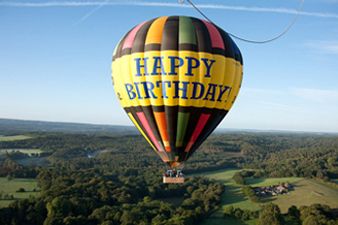 Happy Birthday Balloon flights over Hertfordshire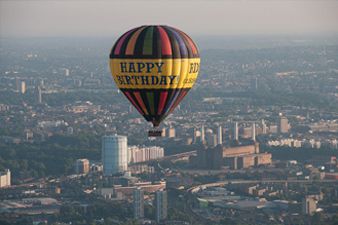 Happy Birthday Balloon Flight over London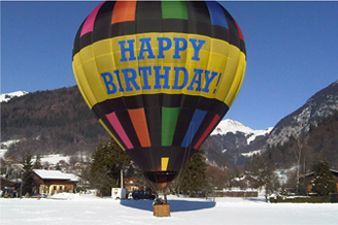 Happy Birthday Balloon in a Winter Wonderland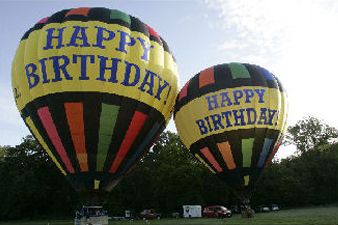 Our new 16 passenger Happy Birthday Balloon takes off from Hampshire alongside the original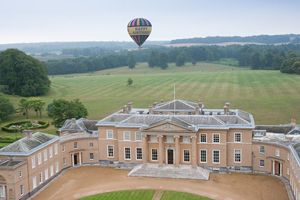 Happy Birthday balloon flight with an aerial view of Hackwood House near Basingstoke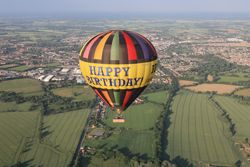 Balloon Rides over Essex in our Happy Birthday Balloon.