Surrey Balloon Flights
All of hot air balloon rides are now facilitated by Virgin Balloon Flights, which means there may be some changes to our launch site locations.
Virgin has flown alongside Adventure Balloons across the South East for many years now.
Some of the specific launch locations may vary slightly from the below, so please visit the Virgin Balloon Flights website for an up to date list of locations to book from.
If you already have Adventure Balloons hot air balloon ride voucher, visit the Log In page and find out how to transfer your existing voucher to a Virgin Balloon Flights voucher.
If you don't already have a balloon ride voucher, you can purchase directly through Virgin Balloon Flights here.
Fly with us on our hot air balloon flights in Surrey from launch sites in Farnham, Godalming and Guildford.
Balloon Flight Surrey
We launch from Shalford Park in Guildford next to St Catherines Chapel and from the Burys in Godalming next to the River Wey. We also launch from Farnham Park, next to Farnham Castle which still retains its multitude of architectural styles built over the centuries.
During the balloon ride you may see Guildford Cathedral, Frensham Ponds, Loseley House and Alice Holt Forest. You might pass over small villages such as Churt and Puttenham or ruins such a Waverley Abbey or Black Lake where we are told A.A. Milne was inspired to write Winnie the Pooh.
Surrey is a small county as the balloon flies, particularly in the North - South direction. On some wind directions, we have the double challenge of keeping clear of both Heathrow and Gatwick airports' airspace.
Click here to see videos of our balloon flights over Surrey.
Book now to go ballooning in Surrey.
Click here to see maps of our Surrey balloon launch sites.
The small print
To ensure that we provide you with a safe and enjoyable balloon flight, the site chosen will depend on the wind direction, speed on the day and any operational factors. Surrey is a rectangular shape and while it is long from East to West it is not very big from North to South and is bordered to the North by Heathrow Airspace and to the South by Gatwick Airspace. When the wind is coming from the South, we will always try to use one of our Surrey launch sites. However if the weather forecast is good for ballooning and there is not enough room for safety we may on some occasions use our nearby Alton or West Meon launch sites. As the wind will then be quick (in balloon terms!) and coming from the South or South West this will hopefully mean we fly back towards Surrey and may well land in Surrey. Depending on the time of day our Alton or West Meon sites will add about a further 20-30 minutes to the travel time compared to a flight from Farnham for example if you are coming from the London direction.
Remember we cannot say which launch site we will be using on any particular day, until we know which way the wind is likely to be blowing! In order to provide you with the best opportunity to fly we expect our passengers to be prepared to fly from whichever venue is being used that day.
Surrey Attractions and Links
Farnham and Guildford Links
Our Surrey Hot Air Balloon Rides Aerial Picture Gallery
Click on the pictures below to see aerial views taken on our balloon rides around Guildford, Godalming, Farnham and other Surrey balloon flights locations.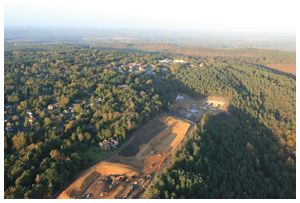 A3 Hindhead Tunnel Aerial picture October 2008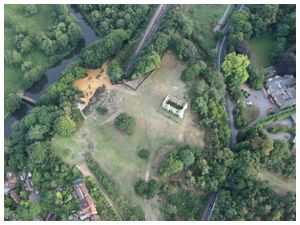 Aerial view of the ruins of St Catherine's Abbey Guildford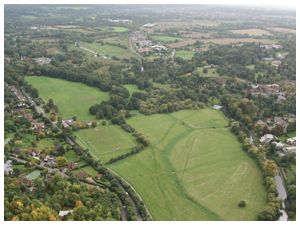 Aerial view of our hot air balloon launch site at Shalford Park Guildford soon after the balloon took off on its flight over Surrey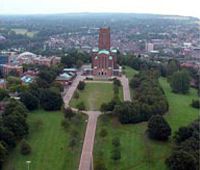 Guildford Cathedral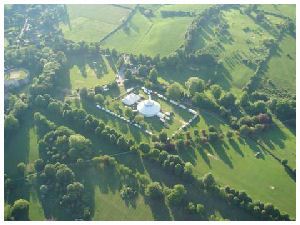 Billy Smarts Circus in Farnham Park by balloon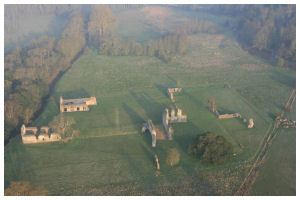 Ballooning in Surrey at dawn over the ruins of waverely abbey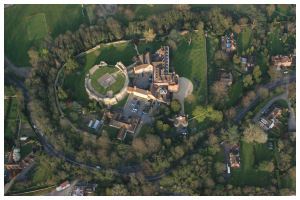 Farnham Castle in Farnham, Surrey from a hot air balloon basket.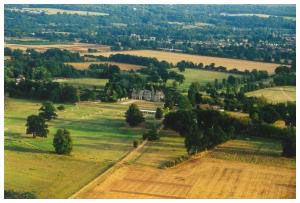 Loseley House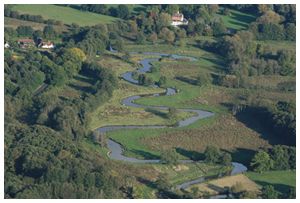 River Wey near Elstead Mill Ballooning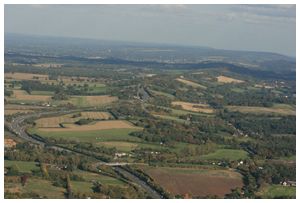 Hogsback and A3 looking towards Guildford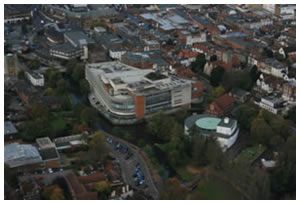 The Yvonne Arnaud Theatre, Guildford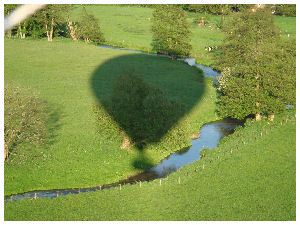 Our Lindstrand 330 hot air balloon casts a shadow over the river Wey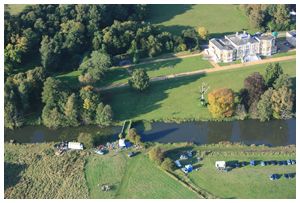 Filming of a period costume drama near Waverley Abbey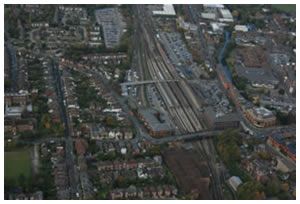 Guildford Railway Station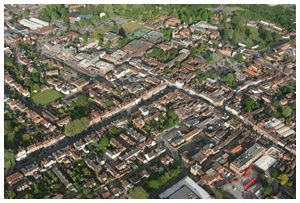 Farnham centre and castle street