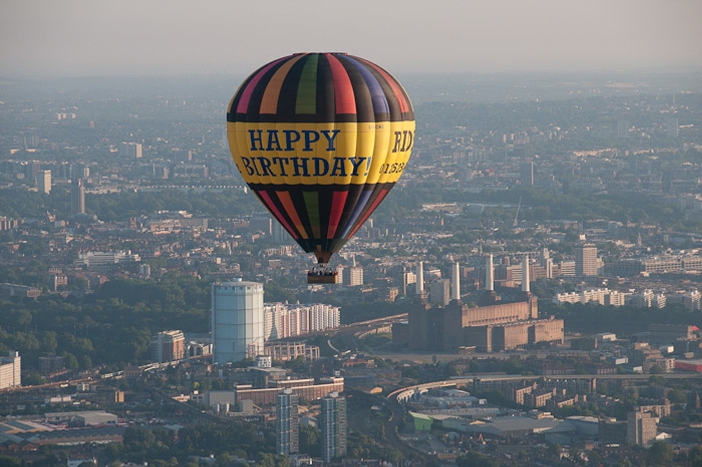 Happy Birthday Balloon Flight over London
Looking north over London with the iconic Battersea Power Station just to the left of our hot air balloon. The large green area just below the words Happy Birthday on the balloon is Hyde Park and the Serpentine.
Flights over London are very weather dependant, more so than a balloon flight over the home counties because as well as meeting the normal criteria for a hot air balloon flight which are light winds, no rain and good visibility, for a hot air balloon flight over London we are limited in the wind directions we can fly on in order to keep out of Heathrow Airport. However if you can live with the cancellations, when you do fly all our passengers say it is worth it and you will join a small exclusive club of balloon flight passengers who can say they have flown over London.
So because of this it is not so easy to emulate the first balloon pilots who flew in England from sites in the city in the 1780's. They were free to fly in any direction and indeed some flights from London even crossed the channel into Europe! Charles Green was a celebrated gas balloonist who flew over 400 miles in 1836 from Vauxhall Gardens, just south of the River Thames and not far from the modern day MI5 building. He even flew through the night, landing not far from Nuremberg in Germany
Click Here to find out how much it costs to fly in this balloon from somewhere near you