York Balloon Flights
All of hot air balloon rides are now facilitated by Virgin Balloon Flights, which means there may be some changes to our launch site locations.
Virgin has flown alongside Adventure Balloons across the South East for many years now.
Some of the specific launch locations may vary slightly from the below, so please visit the Virgin Balloon Flights website for an up to date list of locations to book from.
If you already have Adventure Balloons hot air balloon ride voucher, visit the Log In page and find out how to transfer your existing voucher to a Virgin Balloon Flights voucher.
If you don't already have a balloon ride voucher, you can purchase directly through Virgin Balloon Flights here.
Adventure Balloons offers hot air balloon flights from the city of York and nearby sites in Yorkshire
Your balloon flight from York will take off from either the Knavesmire (York Racecourse) or we occasionally launch from beside the banks of the River Ouse at the Naburn Lock, just 4 miles south of the City of York. Which site we use depends on the wind speed, direction and any other operational factors on the day.
York was founded by the Romans nearly 2000 years ago. Politically important, the Roman Empire was briefly governed from York and both the Angles and the Vikings made York the capital city of the North. Had Richard II had his way, York would have been the capital city of England. From the medieval city walls to the Europe's most spectacular gothic cathedral, York Minster, York is steeped in history and what better way is there to view it and the surrounding countryside than from a hot air balloon?
Book now to go ballooning in York.
Click here to see maps of our York balloon launch sites.
Aerial view of York Racetrack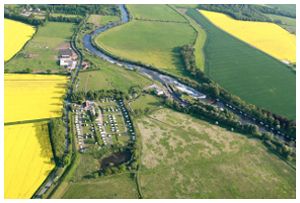 An aerial view of Naburn Lock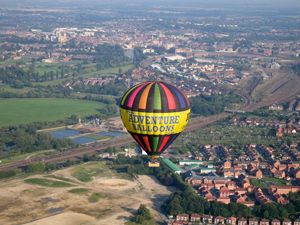 Aerial Picture over York City Centre and the River Ouse