East Sussex Balloon Flights
All of hot air balloon rides are now facilitated by Virgin Balloon Flights, which means there may be some changes to our launch site locations.
Virgin has flown alongside Adventure Balloons across the South East for many years now.
Some of the specific launch locations may vary slightly from the below, so please visit the Virgin Balloon Flights website for an up to date list of locations to book from.
If you already have Adventure Balloons hot air balloon ride voucher, visit the Log In page and find out how to transfer your existing voucher to a Virgin Balloon Flights voucher.
If you don't already have a balloon ride voucher, you can purchase directly through Virgin Balloon Flights here.
Adventure Balloons Hot Air Balloon Flights in East Sussex
Balloon flights will be made from the beautiful grounds of Ashdown Park Hotel. Close to the National Trusts property Sheffield Park, you will often be able to see Brighton and the South Coast as well as the stunning countryside of Sussex. On some occasions a back-up site will be used if wind direction requires. See the map pack below for details.
Book now to go ballooning in Sussex.
Click here to see maps of our Sussex Balloon Launch sites
Click here to see dates for our forthcoming Sussex balloon flights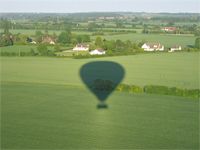 Taking pictures of the balloon shadow and the aerial view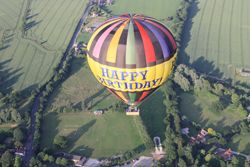 Its a great birthday present to float over the beautiful Sussex countryside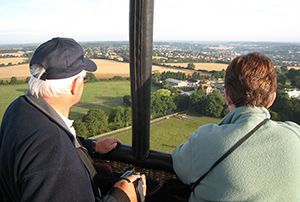 Appreciating an aerial view of the Sussex landscape