Buckinghamshire
All of hot air balloon rides are now facilitated by Virgin Balloon Flights, which means there may be some changes to our launch site locations.
Virgin has flown alongside Adventure Balloons across the South East for many years now.
Some of the specific launch locations may vary slightly from the below, so please visit the Virgin Balloon Flights website for an up to date list of locations to book from.
If you already have Adventure Balloons hot air balloon ride voucher, visit the Log In page and find out how to transfer your existing voucher to a Virgin Balloon Flights voucher.
If you don't already have a balloon ride voucher, you can purchase directly through Virgin Balloon Flights here.
Drift over the rolling countryside of the Chilterns on hot air balloon rides with Adventure Balloons from the Black Horse Pub at Great Missenden Bucks
On our hot air balloon rides over Buckinghamshire and the Chilterns you may see the Vale of Aylesbury, the Prime Ministers country house at Chequers, Waddesdon Manor, bequeathed to the National Trust by the Rothschilds and many more enticing sites. The towns of Wendover, Aylesbury and Tring are also with in a balloon ride of our Bucks ballooning sites.

Many of our Buckinghamshire flights commence from the Black Horse pub . The pub is at the north end of the small Buckinghamshire town of Great Missenden, home of the Roald Dahl Museum, writer of children's stories such as James and the Giant Peach and more. It has been a mecca for hot air balloons since August 1980 when Dave Kinsey and his son Steve ran the pub. Some of our pilots have been flying from this location since those early days and have a wealth of local knowledge to enrich your experience. Often when we fly from here other balloons flown by members of the local balloon club may be flying alongside us. Sometimes we may use other sites to ensure the balloon stays out of Luton or Heathrow airspace during the expected duration of the balloon flight.
Book now to go ballooning in Buckinghamshire.
Click Here to check date availability for Buckinghamshire balloon rides
Click here to see maps of our Buckinghamshire balloon launch sites.
Buckinghamshire Attractions
Our Buckinghamshire Hot Air Balloon Rides Aerial Views Gallery
Click on the pictures below to see lovely aerial views taken on our balloon rides over Buckinghamshire balloon flights locations
Balloon flights over the Aylesbury Plain provide great aerial views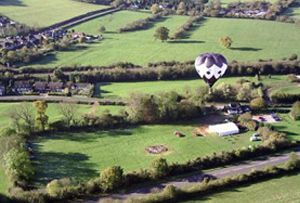 Balloon flights taking off from the Black Horse at Great Missenden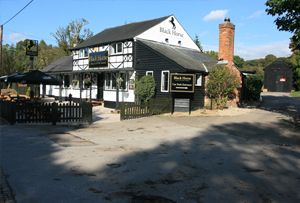 The Black Horse Pub at Great Missenden, a centre for ballooning over the Chilterns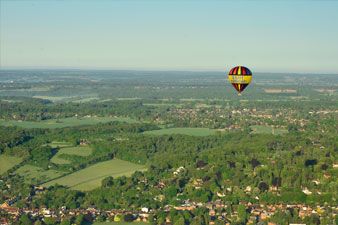 Flying high in a hot air balloon over Buckinghamshire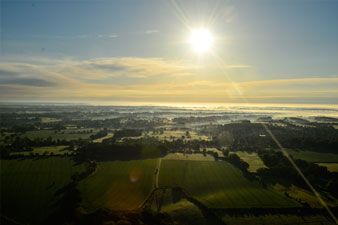 Early morning mist in the Chilterns on a balloon flight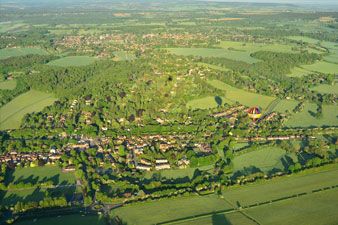 Floating over Great Missenden in a hot air balloon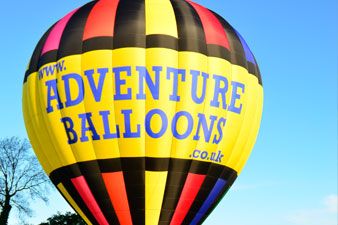 Ready for take off from the black horse pub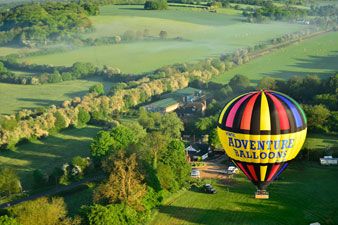 Hovering feet off the ground moments after take off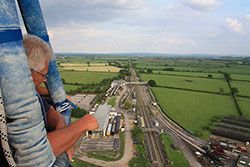 Looking out over Quainton Railway Centre.