About Us
Something To Consider Before You Buy A Balloon Flight Voucher
Adventure Balloons was founded in 1985 and is the longest running balloon flight provider in the country still under its original owners. If you would like to read a bit of company history from those early days please click here

When you buy a balloon flight voucher it is important to remember it may be several months after you have paid in full for the flight before you get round to taking your balloon ride. This may be because a few dates are cancelled because of the weather or perhaps you take a while to get round to booking a date.

So you want to be sure that the company you choose will have the money to be able to fly you when you book your flight. Adventure Balloons has always made sure the full amount of money we receive from passengers is kept in our bank to cover those passengers who are yet to fly. But some companies may not be so careful with your money. In these difficult economic times it's a good idea to check any company before you buy something on line.

Three of our Balloons take off together
How Can I check?
Here's a simple way to do this. Make sure you know the name of the company you are dealing with. By law it should be on their web site along with their address and registered number. For Adventure Balloons you can find it at the bottom of every page on our web site. On some web sites it may not be this easy and it may only be visible on the "contact" page or they may call themselves by a different name to the company that runs them. This is perfectly legal, it is called using a "trading name" but just means you need to take a bit more care when checking the company out.
Once you have the company name, just click on the link below to www.companycheck.co.uk. This is a great free web site where you can do some simple checks. In the box at the top of the home page where it says TYPE A COMPANY NAME OR NUMBER HERE you do just that. In fact once you have typed in some of the company name, options will appear below for you to select the correct one. Press the search key and you can then see the company's details from COMPANIES HOUSE, the Government's body that makes sure companies file their accounts etc properly. Click on the ACCOUNTS tab and you will see "KEY FINANCIALS". This will show what has been happening for the last few years. Ideally you want to book with a company that has CASH AT BANK to the same amount or more than its TOTAL CURRENT LIABILITIES. This latter figure is the value of the passengers it has to fly. You would probably also want the graph to show gradual growth (rising) rather than going downhill or up and down a lot. If not you might want to think twice before you place your money with them.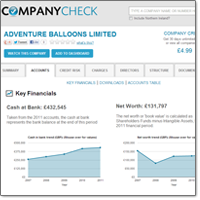 When you look at the figures for Adventure Balloons we hope you will see that even during these difficult economic times we continue to run a good company with a good cash position which is increasing with time – by customer recommendation we hope!. If you have a look at some other balloon companies using the Company Search web site you may decide they are possibly a risky place to put your hard earned money. We may not have the cheapest prices but we will be here when you come to take your flight with us.