Hot Air Balloon Rides BBC interview in Oxford
Adventure Balloons got yet another call to work with the BBC. This time it was on the local radio station for the Oxford area. Malcolm Boyden's Breakfast show needed something to give it a little lift last week and Adventure Balloons pilot Kim Hull popped in to the BBC offices in Summertown Oxford. After recent interviews with Chris Evans on Radio 2 and Ellie Harrison on BBC1 Kim is becoming an old hand at this sort of thing.
"I thought Malcolm would want information about our ballooning predecessors such as local Oxford man James Sadler, who was the first Englishman to fly from this country n 4th October 1784 from Christchurch Meadows but he was more interested in the modern day experience of flying in a hot air balloon from Oxford. We were the first company to offer passenger balloon flights from Oxford's city parks in 1995, persuading the council that it would be a good thing for tourists and locals alike. After the interview Malcolm asked listeners to call in to tell him about their ballooning experiences - ballooning is so reliant on the wind on the day that there is always a story to tell!"
Of course Malcolm was "mugged" by Kim, who presented him with one of the company's giant balloon coffee mugs. "We give these to landowners after we land" said Kim "They always go down well".
Listen to Malcolm chatting about balloon flights with Kim here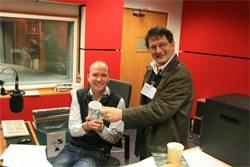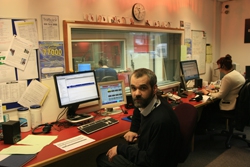 Click photos to enlarge